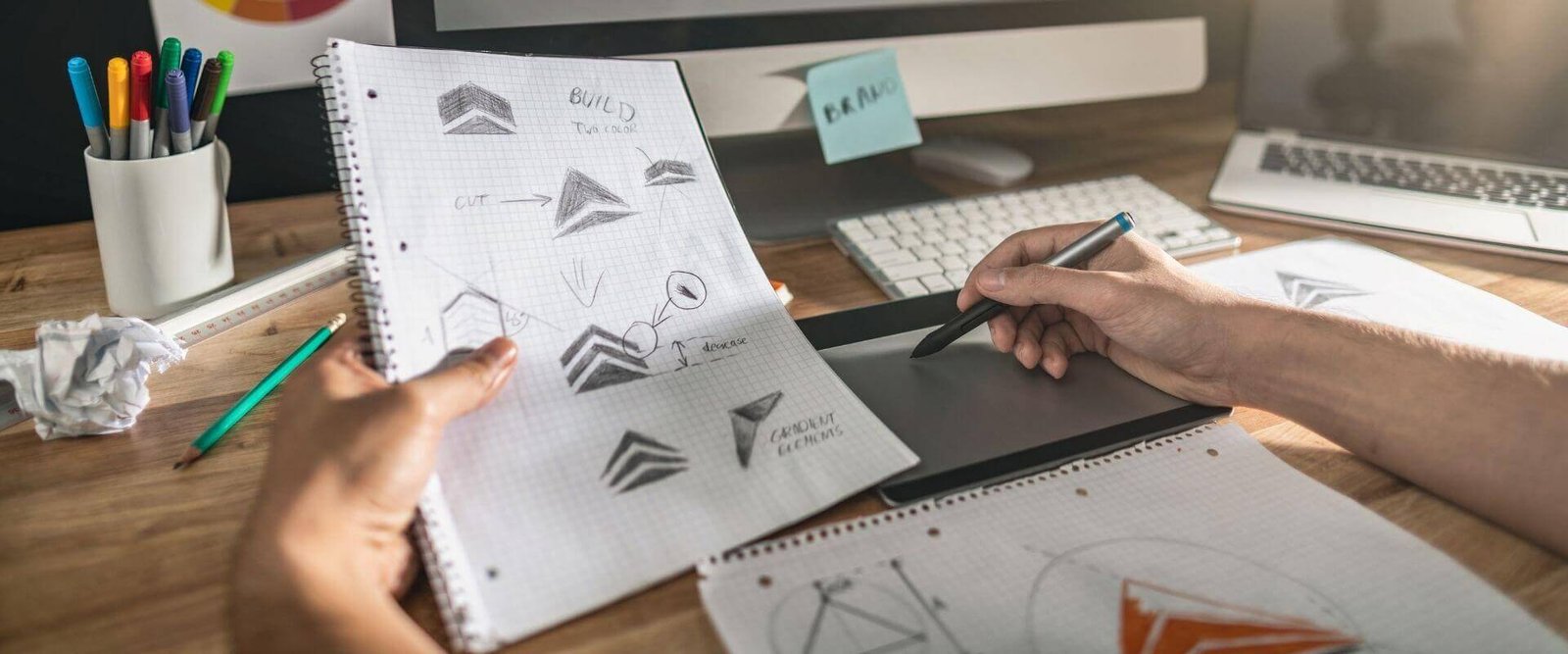 Best Graphic Design Institute in Dehradun
Is logo creation or book or magazine designing or product packaging quite enticing to your creative mind? Do you feel an irresistible zeal to formulate some visual content leveraging photography, typography, illustrations, etc.,? Then you have every ounce of the potential to be a successful graphic designer! It is often considered to be a sub-set of communication design that is a potent blend of design and information development.
In case, you have envisioned pursuing a lucrative career in the graphic designing space, then opting for a suitable course can endorse your endeavour with some valuable skills, either be it creative or technical aspect. And when it converges to considering professional help for better growth opportunities, then why not undertake the Best Graphic Design course in Dehradun propounded by Doon Digital Gurukul.
As a well,-received initiative, DDG has concluded to offer an extensive platform to the budding talents and enthusiasts where career-building competencies come in handy. As a sheer advocate of a creative outlook and competent mindset, the prominent institution strives to ensure exceptional career prospects to its alumni. Thereby, dive into the pool of excellent, elegant, and sophisticated learning experiences by choosing this stellar graphic designing course.
Apropos of the course and why pursue it?
Graphic Designers are skilled professionals who possess outstanding IT skills, design and photo-editing know-how, creativity and innovation, time management, organizational dexterity, and considerably more. All the competencies mentioned in the above premises are instrumental in carving a favorable career in this prospering area. Well, owing to the incessant hard work and thorough research of our panel of faculties, the course modules have been perfectly designed to ensure theoretical as well as practical acuity to the students to develop such abilities in them. The agenda of this one-of-a-kind course proposed by this Best Graphic Design Institute in Dehradun is to provide the aspirants with holistic development to get an edge over their competitors in the respective domain. Here, you will come across a unique way to convey your ideas and imagination using imagines, graphics, and animation.
The curriculum of the course and key highlights
While infusing unequalled analytical skills and better apprehension of the industrial norms within the students, the program is focussed on training the students in marvellous content creation, extraordinary image editing, and enticing leadership skills. All of these mentions will be duly covered
under DDG's extensive training program, ergo, delay no more to be benefitted from nonpareil Graphic Designing Training in Dehradun. Moreover, the curriculum of this course will encompass some significant topics such as—
● Basics of designs
● Craft design techniques
● Sketching & drawing
● Introduction to Graphic designing
● User experience design
● User interface graphics
● Visual Ergonomics
● Design process
● Advanced illustration skills
● Design for dynamic images
● Brand imaging design
● Environmental graphic design
● Advertising design
Scope of graphic designing courses
Considering the job opportunities in this space, we can assure you there are ample amount of flourishing career prospects to make your own identity. An aspirant can consider the government as well as the private sector to pursue a great career ahead. In the past few years, there has been a surging demand for Graphic Designers across the government ministries, fashion houses, media houses, consulting firms, hotels, etc. Following are the outlined professions one can seek after opting for the Best Graphic Designing Course in Dehradun by DDG—
● Animator
● Printmaker
● Illustrator
● Logo Designer
● Video Editor
● Creative Director
● Brand Identity Designer
● Banner and Poster Designer
● Product designer
● Design Consultants
Depending upon the competencies and experience of any enthusiast, one can bag a wholesome amount in terms of paychecks. As per the national average income for the graphic designer, one can easily earn 20k and competent skills and experience can raise this figure up to 455, 360 to 778, 228 per annum, which is quite an alluring salary package. So, don't lag to enter into a pool of exhilarating career prospects that our graphic designing course has to offer.
Application procedure
If your ambitions are duly fixated on making a lucrative career in this field only, then get shortlisted for admission in our institution for which you will have to undertake an entrance exam. After qualifying for this exam, an aspirant will have to prove his prowess in an interview session held with one of the key dignitaries of our institution. Later, document verification will be conducted and the administration will offer the aspirants suitable batches.
What does a graphic designer do?
Graphic designers are adept professionals who can create visual concepts by leveraging the power of computer software. This job needs an individual with a creative outlook, who can communicate his ideas and innovative zeal with the people in visual form. Fundamentally, they are ingrained with the development of overall layout and product designs for media houses(newspapers and magazines), web pages, books, advertisements, brochures, annual reports, and much more.
Is graphic design a good career?
Undeniably, graphic designers are high in demand as this profession demands some serious and innovative skills. India is thriving with job opportunities for graphic designers and especially with the surge in the advertisement and marketing field, such professionals have become the most 'sought after' employees for the budding enterprises as well as megacorps. However, how much one can make out of this job role depends upon one's dedication and determination only.
What kind of jobs are there for graphic designers?
Creative Director, Industrial Designer, Logo Designer, Illustration Artist, Layout Artist, Brand Identity Designer, Banner and Poster Designer, Web Designer, Visualization Artist, Design Consultants, Multimedia Artist, Animator, Campaign Manager, Video Editor, Flash Designer, Film Editor, Product Designer and more, are some of the professions one can seek after opting for a reliable and suitable course of graphic designing. As this space is thriving with exemplary job opportunities, one can go ahead with multiple options in mind to pick the most beneficial one accordingly.
How long does it take to become a graphic designer?
Usually, the courses being proposed by some eminent institutions across the space last for 2-3 years. Such courses also include a few months of training and internship programs that may differ from institution to institution. After the completion of the program, one can join any start-up or SME to practice the knowledge acquired so far as such ventures allow you to experiment more and make suitable use of your competencies.
What is the duration of the graphic design course?
The duration of the course depends on the terms and agreement of the institution with the affiliation bodies. However, the course duration for a graphic designer may vary as per the 'type of program' one has opted for; it could be six months, one year, or even four years where the training program is also ensured accordingly. The course duration is not of much significance as an individual must consider its structure and approach to utilize the lessons in his favor for carving a roadmap to success.